When you wash dishes by hand, fill one half of the sink with soapy water and the other with clean water instead of letting the water run.

Select one glass to use for drinking each day. If you do this, your dishwasher will take longer to fill up and it will not need to be run as frequently.

Thaw foods in the refrigerator or in a bowl of hot water instead of using running water.

Let your pots and pans soak instead of letting the water run while you clean them.

Take shorter showers - 5 minutes or less.
 Cleaning with Baking Soda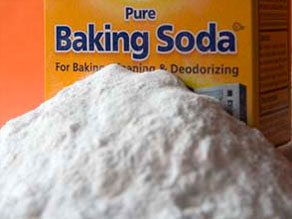 Baking soda is very effective and an inexpensive household cleaner.  It's also good for the environment and better for you and your children's health than traditional chemical cleaners!!
It can be used on carpet, laundry, odors, teeth, and body odor. It can also be used to use in your pets little box to help control odors.
5  TIPS for CLEANING & USING BAKING SODA
1.  Keep your food tasting fresh by washing your plastic food containers with baking soda.
2.  Add ½ a cup of baking soda to a bucket of water to mop floors.
3.  Sprinkle a little bit of baking soda into your shoes before and after wearing -- your feet will feel cooled, your shoes will stay smelling like new.
4.  If your carpet smells musty, sprinkle a thin layer of baking soda over the entire surface.  Let it sit overnight then vacuum.
5.  To rid your hands of odors, like onion or garlic, scrub with baking soda.